Hi Stefan,
Many thanks for the reply. Here's the rule that I set up: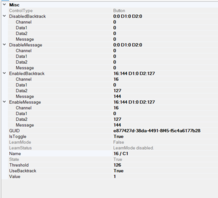 Now there's lots in there that I don't understand! I have no idea what 'Backtrack' is for example.....
Ah.....should I be sending a 'Disable Message', ie a Note Off?? I bet that's it!
Still, even if so, I'd have to send two messages from the other piece of software rather than the one that's needed at the moment. Of course, if I was using a real MIDI keyboard, a Note Off would be sent anyway and so the Disable Message would be ideal.
Bit by bit I'm fathoming all this out!