Hello all,
I'm Davide, I'm new in this forum.
I'm trying to setting up my Enttec DMX USB Pro into DMX Control 3.2.2 but could be that I'm doing something wrong:
I checked my interface with Enttec software and seems that interface is working but DMX Control does not recognize it.
When I try to add interface in DMX COntrol, I cannot found my interface, as you can see in the screenshot below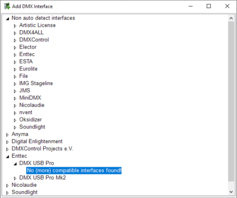 I read and follow the tutorial but I cannot solve this.
I also installed the latest D2xx and VCP driver without any positive results.
Can I check something else?
Many thanks to anyone can help me, any help would be much appreciated!
Regards
Davide