Hallo Zusammen,
Am Freitag abend, den 03.06. um 20:00 Uhr, gibt es aus der Werk- und Kulturscheune in Loitsche einen Livestream mit Tasten und Schlagzeug. Die Combo nennt sich DruGan - DRUms and orGAN.
Wer Lust auf handwerklich gute Musik hat ist bei den beiden Künstlern genau richtig. Zwei Brüder, der jüngere ein Organist und Kirchenmusiker, der Ältere mit reichlich Heavy Metal Erfahrung am Schlagzeug. Beides eine spannende Mischung.
Weiteres zur Veranstaltung auf https://www.werkundkultur.de/drugan-live-im-stream/

Hier ein kleiner Vorgeschmak:
Content embedded from external sources will not be displayed without your consent.
Through the activation of external content, you agree that personal data may be transferred to third party platforms. We have provided more information on this in our privacy policy.

Lichttechnisch werden DMXControl und folgende Geräte zum Einsatz kommen:
6x Showtec Powerspot
4x Showtec Pixbar 8
2x Varytec Typhoon
3x Noname LED China billig Moving Heads
1x 4 Kanal Dimmer
1x Tour-Hazer
--> bissel Deko Licht auch noch

1x Streamdeck XL
1x Art Net Node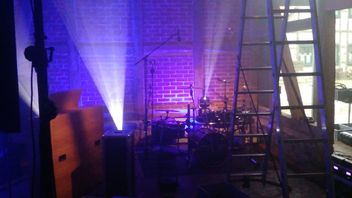 Der Lichtaufbau ist heute soweite fertig geworden.
Jetzt wird noch eine kleine Nachtschicht eingelegt und Licht programmiert.
Wenn jemand später noch interesse an Video oder Ton Details hat, dann schreibt es hier gerne in den Thread

Gruß
Nutzer99