Did you know? #23 - Five ways of starting a cue

You probably wondered why DMXControl 3 offers so many different entries in the menu GO in the Cuelist Editor. At this point we would like to shed some light on the dark and outline what all these entries are about.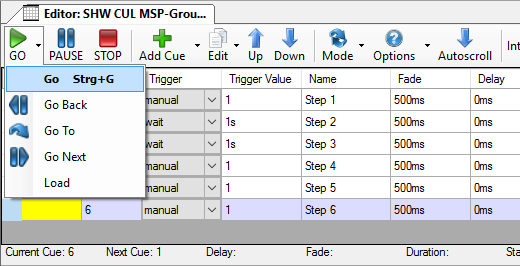 The entries "Go", "Go Back" and "Go To" are quickly explained. With "Go" you start the cuelist with the first active cue. If you use the trigger "manual" in the cuelist in between, the cuelist stops at these points and waits for your next click on "Go". "Go Back" calls the previous cue in the cuelist. However, all automatically running triggers like "follow", "wait" etc. are ignored, so that you can go back step by step when flying automatically from several cues. "Go To" expects an additional information from you: here you have to mark a cue, which will be called directly when you click on "Go To". This allows you to react quickly to changes in the program flow, provided you know which cue you need to jump to. A good lettering is here quite incidentally mentioned in such cases gold worth.
Now we come to the first somewhat more complex command: the "Load" command. This one has certain similarities to the "Go To". To work with Load, you must first select a cue in the current cuelist. But with the click on "Load" not much happens yet. Only one entry in the status bar at the bottom of the cuelist window changes. Next Cue displays the cue number of the cue that is too currently selected. With a click on "Go" DMXControl 3 now outputs exactly this cue.
Finally, we look at the command "Go Next". If you have not changed anything in the settings for the cuelist, "Go Next" behaves exactly like "Go To". The interaction with the two setting options in the Cuelist Options makes it exciting. On the one hand you can define under the category Go Next Behaviour whether the cuelist is started by clicking on "Go Next" or not. The second option adjusts the behaviour of Go Next to the Go command. But to what extent is this now helpful to you? A possible scenario, for example, is that the drummer in a band should trigger various effects via the bass drum (big drum). But as it is well known that it hits the bass drum continuously, all effects would be executed simultaneously. However, if the bass drum in the Input Assignment is linked to "Go Next" of all effects and the Start Cuelist option is deactivated, the Light Operator can determine from another location which effect should be output. In the end, however, as is so often the case, just give it a try!
Your
DMXControl-Team