Live@Work - 19_KW02 - The Christmas story in an other perspective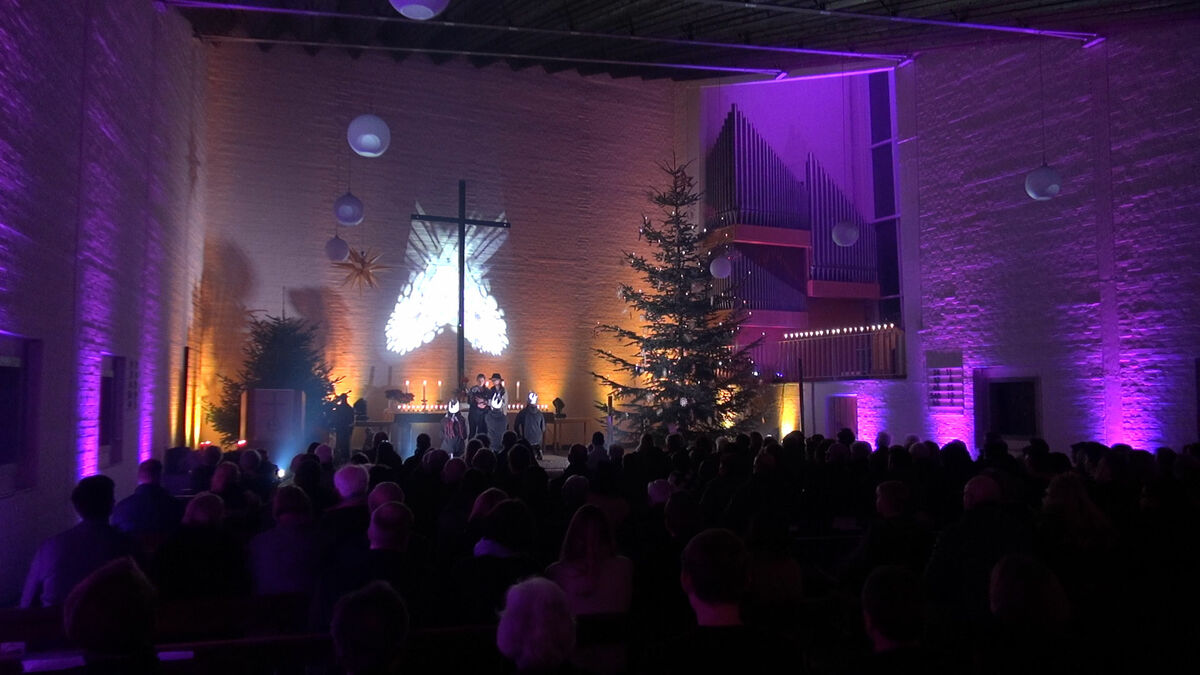 Already for the third year the divine service on Christmas Eve in the protestant church in Büsnau (district of Stuttgart, Germany) was accompanied by a scenic performance. Among others, our club member Jens-Peter helped to shape these. This time it was a 15 minute combination of radio play, an according lightshow and dance interludes. The Christmas story was shown from Mary's point of view and an attempt was made to find out how she felt in the face of the long, arduous and dangerous journey. Fear and despair were illustrated as well as hope and the strength of life in order to master this challenge.
At the event a total of 36 LED spotlights (Eurolite PS-4 HCL, ETEC 7x10W RGBW, Showtec Q4-18) were used, which were installed along the walls. Two moving heads (Futurelight DMH-160) stood left and right of the altar and two washlights (Futurelight EYE-7) as well as four beam-washlights (Eurolite TMH-12 replicas) were placed on a step to the elevated altar area. DMXControl 3.1.3 was used with an experimental tool for music-synchronous playback. A Nodle interface and a DE interface were used because the number of devices exceeded the maximum guaranteed number of devices of a DMX bus.
Various design elements were chosen for the lightshow, which will be examined in more detail in the following. The festive initial cue with warm orange and red tones changed to a depressing, cold white using the beam washlights. They formed a kind of low room in the dark church and symbolized the feeling of narrowness and emptiness. After some hope came up (symbolized with green pulses) and several dance interludes, the climax of despair followed. Here the thoughts (different Lissajous curves of all MHs) circle around until they finally fell into the audience (light rays of the MHs wander down into the audience) and end in a thunderstorm. The following darkness was first illuminated by a warm white before a pulse wanders through the church, colouring the church in orange and purple. Especially the latter effects were very easily to realize with only three cues thanks to DMXControl 3. For this purpose, only a fanning had to be applied to the delay of the dimmer and the color in the cue timing editor for the color cue.
Many visitors of the divine service were enthusiastic about the colorfully illuminated church and were exited about the scenic performance. Therefore, we are already looking forward to this year's Christmas production.
Your
DMXControl-Team