Live@Work - 18_CW41 - 5. Report: AquaFitness-Event at Auebad, Kassel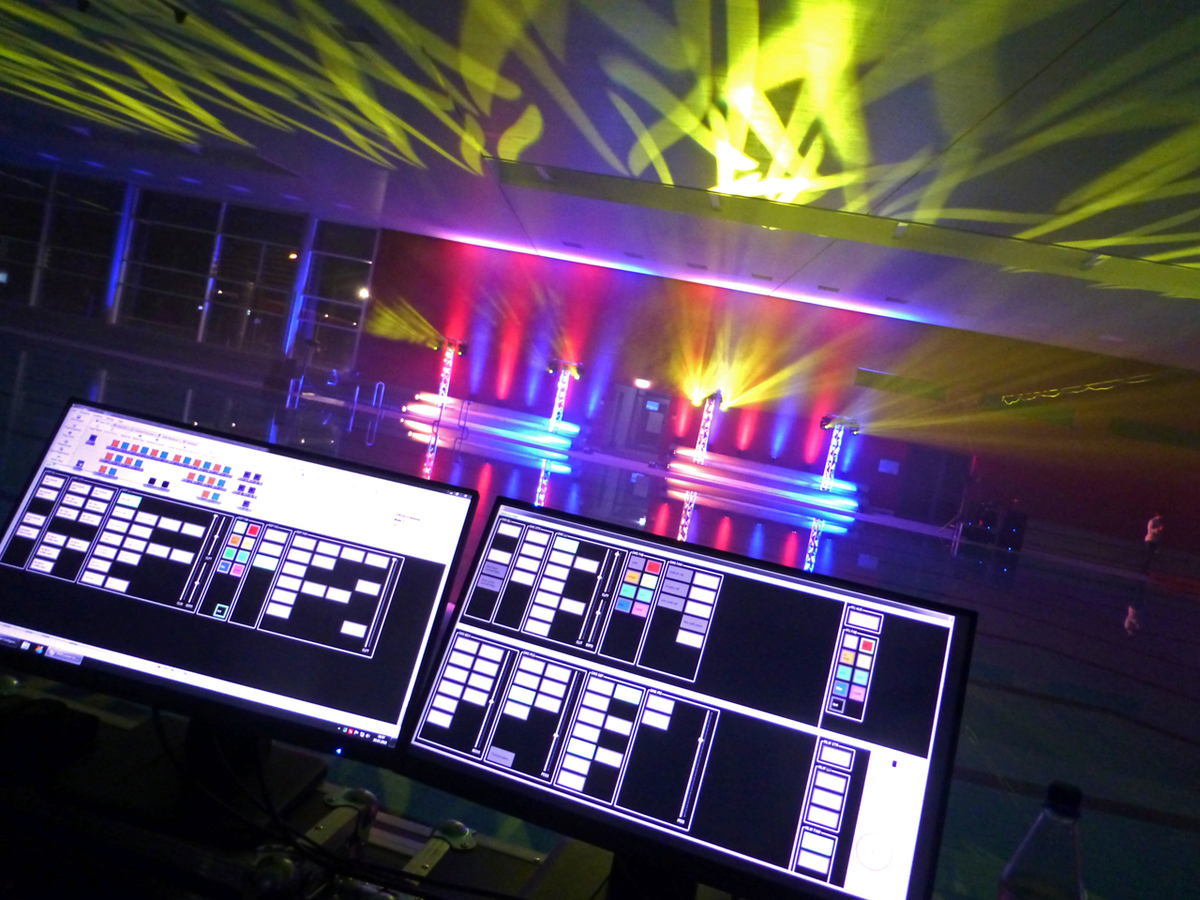 Once a year the Auebad in Kassel, Germany organises an AquaFitness event, the last one in March this year. At the same time, around 130 guests spend their time in the large sports pool of the Auebad, which is located directly on the riverside of river Fulda. For the third year in a row, my brother and I received the order from the responsible persons to also contribute a part with our light and sound equipment to turn the simple AquaFitness course into a real event with event character for all participants.
Accordingly, the light setup was very extensive - especially when you consider that the actual event in the water only lasts about 60 minutes. In use were
8 Futurelight DMH-160
24 LightmaXX Platinum LED MINI PAR Tri-LED
4 Eurolite ML-56 COB CW/WW
2 ADJ Furry Fog Jet
1 Hazebase Base Hazer Pro
1 Antari Z-350 Fazer
All devices were controlled via an Octo Art-Net-Node by Ulrich Radig. However, the Art-Net-Node again served more as a signal splitter than that the sum of the DMX channels of all devices occupy several DMX universes. Like the year before, we placed the light FOH on the opposite side of the pool, where I could control all the light via two touchscreens.
Only at the entrance of the guests there was a cosy, static light scene. With the start of the playlist for the "exhausting" part of the AquaFitness event, the effect lights did not stand still any longer. However, I worked in the same way like the course - in other words, I also warmed up a little at the beginning before I also gave full throttle. I only had a short breather during the change of coach and the short moderation immediately following. This was also the time for the two vertical fog machines, so that each of the five coaches came through a small fog wall on the "stage".
During the preparation of the project in DMXControl 3.1.1 - as usual, I had only adapted an existing project to the new conditions - I benefited from the fact that I know the Auebad well and I already built a visualization in EasyView last year. In this visualization I used the setup for the 2018 edition and already prepared all positions and movements. No corrections were then necessary in the venue. What I have not prepared, was a light show itself. The playlist was fixed a few weeks before the event - but I didn't want to let the joy of "live light making" be taken away from me. And by the way: you can't make a good light show faster and with less effort than if you print it yourself and have a certain repertoire of effects in the project.
All in all it was a real highlight again. My brother and I are already looking forward to the next event...
Stefan