Developer News - 18_CW37 - News from the development area around DMXControl 3.2

During the last developer meeting, the team discussed about different tickets in our bugtracker, which were labeled as "Usability Relevant". Tickets with this label will be discussed from time to time in a larger meeting, because these tickets influence the work flow in the software very much.

One of these tickets was the entry with the title "Ordner Generic an oberster Stelle" (in English "Generic folder at first position"): The "generic" folder contains all generic devices, which can be used for some simple tests at the first start. The ticked said that the folder should be places directly at the first position of the devices tree in the Add Device window. After some questions of the developers, the core idea behind this ticket was found. The original idea was to have an easy and fast access to some devices, where you do not need to scroll or search inside the library. At the end of this discussion, the idea was born to add a favorite folder for your own devices in the Add Device window.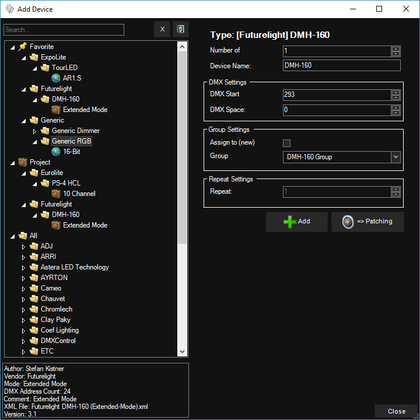 With DMXControl 3.2, you will be able to mark your favorite devices, which you use very often in all your projects and add them to the favorite folder. So you do not need to look through the whole library and you will be much faster in patching your often used devices. While patching the devices, DMXControl 3 collects all used devices of the current project in the second new folder, the project folder. These devices must not be necessarily your favorite devices. But you can also add some devices from the project folder very quickly to our favorite folder.

Remember: This is only one of the new features, which are already implement in DMXControl 3.2 or been planned for this version. We already talked about another big construction side, the new input assignment, in the past at different places. So you can really locking forward to the new version of DMXControl 3! Stay tuned!
Your
DMXControl-Team